This shop has been compensated by Collective Bias, Inc. and its advertiser. All opinions are mine alone. #GoldfishGameTime #Walmart #CollectiveBias.
Here I'm sharing an easy tutorial how to play soccer and a FUN FREE 1o Page Printable Soccer Activity Pack for Kids. It includes the roles soccer players play, free soccer field, different mazes, and read and draw activities to help kids better understand the game of soccer.
Fuel Your Soccer Player
Listen, soccer is an exciting and energy-burning activity for kids. Since I knew I was going to be reviewing the game of soccer with my two boys, I stopped by Walmart to pick up one of my kids' favorite snacks – two Pepperidge Farm® Goldfish® crackers 30 oz. Cartons to make sure they would not run out of steam during our afternoon of outdoor play. You can stop by Walmart and pick up these tasty crackers anytime, plus the 30 oz. cartons are on rollback for $6.46 in store only. I purchased the Pepperidge Farm® Goldfish® crackers Colors and the Pepperidge Farm® Goldfish® crackers Cheddar. Save money and eat fun, tasty snacks while playing with my kids – I totally LOVE it! You can even shop for these crackers by clicking on the photo below!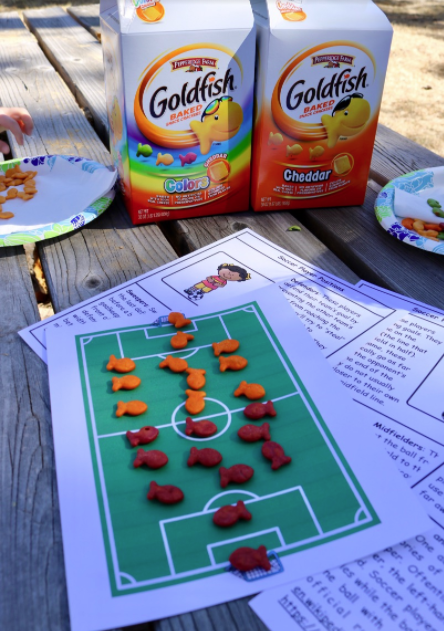 How to Play Soccer with FREE Printables and Exciting Play
Here's a thing that surprised me recently, my son declared he likes soccer. That's funny because I've never taken him to a soccer game. But he explained to me how he kicked a goal from 20 yards away at school during a soccer game and that he has a really high kick. Well, I was thrilled to hear about this! This is my son with challenges in flexibility. We go to physical therapy every week to help him stretch the tight muscles in his legs. A latent issue he's had since being born a preemie at 30 weeks.
Two days after my son revealed his love of soccer to me, we got invited to a birthday party at a giant soccer stadium. It was unbelievably huge! Thirty kids showed up for the birthday party and we all spent a few hours there playing and learning more about soccer.
Well, of course, I had to do some research. I don't want my son to know everything about soccer and I know nothing. So, I've put together a fun 10 Soccer Activities for Kids Printable Pack. I researched the roles of the average soccer player and with the help of Goldfish crackers, a common snack in our household, I explained how to play this fun and exciting game to my kids!
How to Play Soccer
As you can see from this diagram using Goldfish crackers, there are a handful of positions from which soccer players start.
Soccer Position #1: Forwards
The first line of players, closest to the midfield line are the forwards. Forwards: These players focus on scoring goals. They start the game on the midfield line (the line that divides the field in half). During the game, these players typically go as far forward as the opponent's goal line (the end of the field). They do not usually get much closer to their own goal than the midfield line.
Soccer Position #2: Midfielders
The next row of players are the midfielders. Midfielders: These players get the ball from one side of the field to the other so the team can score points. They defend their side of the field by taking the ball away from the other team. These players play the largest field area. They start off just behind the forwards.
Soccer Position #3: Defenders
The third row of players are called defenders. These players defend their team's goal by preventing the other team's players from reaching the goal line. They'll try to "steal" the ball and kick it to someone on their team. They play between their goal line and the midfield. They often perform throw-ins, goal kicks, and corner kicks on their own side of the field.
Soccer Position #4: Sweeper
The last player, just in front of the goalie, is a sweeper. Sweepers can be the last defensive measure before a ball reaches a goalkeeper. They play just in front of the goalie. They defend the goal the entire width of the field and work between the goal line and midfield. They can "throw-in" a ball kicked out of bounds.
Soccer Position #5: Goalie
And, of course, one of the most recognized positions in soccer is the goalie. These are the only players allowed to touch the ball with their hands when the ball comes into the goal box. They try to block the ball from making it into the net and stay close to the goal to prevent the opposing team from scoring. They typically play inside the goal box and use a dropkick to get the ball far away from their own goal.
The Basics of Playing Soccer
Players and Positions: There are 11 players on a soccer team. One acts as a goalie, and the others fall into the categories of forwards, midfielders, defenders, or a sweeper. Oftentimes these players are assigned to the center, the left-hand-side, or the right-hand-side of the field. Soccer players play both offensive and defensive roles while the ball is in play and are not allowed to touch the ball with their hands.
Exciting Play
In the outline of players and positions, I've provided the basics. Coaches and true soccer enthusiasts will understand an even greater variety of names for the positions since coaches utilize players in other varied and more specific ways. For the purposes of teaching my two boys about soccer though, these printables, the soccer playing field, and our delightfully tasty Goldfish® crackers were the perfect tools.
For more exciting play and some awesome info on how to play soccer, please visit https://en.wikipedia.org/wiki/Association_football_positions or https://www.wikihow.com/Play-Soccer.
Download your FUN FREE 10 Page Soccer Activity Pack for Kids
My boys loved this printable pack with soccer activities for kids. If you're like me and you want a fun guide to help you teach your kids about soccer, this is the printable pack you don't want to miss!
Soccer is an excellent game for teaching gross motor skills, coordination, balance, endurance and teamwork. Take it from a Certified Teacher in Early Childhood Education, this printable pack is good stuff.
Just click the yellow "download now" button to get your copy.
Thanks for joining us at HappyandBlessedHome.com. To download your FREE 10 Page Soccer Activity Pack for Kids, just click the link here:
Download your FREE 10 Fun Pages of Soccer Activities for Kids
Where to find Goldfish® Crackers
You can find everything you need to create this fun Soccer Tutorial at Walmart. I found the Goldfish® crackers on the aisle with cookies and crackers. For more kid-friendly game day ideas check out Goldfish® crackers online. You can also follow them on these social media channels:
Want more of the good stuff?
HappyandBlessedHome.com has hosted over $10,000 in giveaways in the last 12 months. Plus, subscribers enjoy loads of free printables and easy recipes. If you enjoy free recipes, printables, crafts and games for little ones, ideas for family fun and encouraging posts for moms, sign up and have Happy and Blessed Home delivered to your inbox. Simply enter your e-mail address here:
What are your favorite ways to play?
How does your family enjoy sports and game day activities? Do you enjoy soccer or other forms of play? I'm always looking for games and fun things to do with my kids. Please leave a comment or recipe idea below and join the conversation. I love hearing from my readers.
Blog / Facebook / Pinterest / Twitter /Google + / Bloglovin'/ Instagram/ YouTube
More Ideas for Family Fun
Speaking having fun with kids, I have some wonderful activities for creating memorable family-fun. These are some of the family fun posts loved by over 60,000 fans! Make sure to subscribe so you don't miss any of my free printables, easy recipes, or games and activities for family fun! Subscribe Here.
| | | |
| --- | --- | --- |
| | | |
| Superman Party | Hot Air Balloon Activity | |
Thanks for being a fan! Do you have a board for kids activities or free printables on Pinterest? Help spread the word and PIN this post on Pinterest!