Good Morning beloved readers. Every once in awhile something comes across my blogging desk that I just have to share with you. My friends over at Intoxicated on Life are making it possible for someone to WIN 600 in Tools for Educational Enrichment and I felt my readers would LOVE to know about it.
No matter what your schooling plans are for your little one(s) these resources would only enhance and enrich preschooler education. With resources for character enrichment, tools to enhance writing skills, and things to help parents create lesson plans – this is a fantastic giveaway!
It's easy to enter to win these great prizes. Scroll to the bottom of this blog post and click on "Entry-form" to enter the giveaway. I love bringing fantastic prizes and giveaways to my readers so if you enjoy learning about giveaways like this one, please send me a note in the comments. I'd love to hear from you.
The information below my signature was written by my friends at Intoxicated on Life. If you win this fabulous prize please let me know and I can feature you on the blog (if you're interested). Good luck! I hope its a Happy and Blessed Home reader who wins!
In His Grip,
Blog / Facebook / Pinterest / Twitter /Google + / Bloglovin'
WIN 600 in Tools for Educational Enrichment
Attention homeschoolers! Looking for resources, encouragement, and training for next school year? This giveaway has some great resources to get you started. We're giving away $600 in prizes.
8 Winners Will Get…
A live stream pass to the Family Discipleship and Homeschooling Conference (worth $29.95)
Two year-long handwriting workbooks—print and cursive—that help kids memorize a long text of Scripture, and a 30-day family Bible study that delves deeply into that same passage (worth $17.50)
2 Grand Prize Winners Will Get…
All the prizes mentioned above
A year-long subscription to Lessontrek's lesson planning app (worth $60).
Prizes
.
One-year subscription of Lessontrek's lesson planning app (2 Winners)

Lessontrek is a better and modern web application for online lesson planning for the homeschool, private, and public school teacher. Lessontrek helps parents create lesson plans quickly and easily. In just a few minutes you can setup your school year and subjects, create lessons and assignments, record grades, and more. Their handy drag-and-drop system makes reordering lessons easy.
"I like how you can organize the subjects, set up the school based on whenever you start and take breaks. I also like how easy it is to use and create the subjects, assignments and color code everything." – Gretchen (Colorado)
Lesson trek is giving two Grand Prize winners a year subscription ($60 value for each).
.
Livestream Pass to the 2014 Family Discipleship and Homeschool Conference (10 Winners)
Live stream Ken Ham to your living room! Enter to win a Live Stream Pass to 2014. Family Discipleship & Homeschooling Conference. 10 WINNERS!
Watch the preview video at http://bit.ly/1hea4QB
From the comfort of your own home, join thousands of other homeschoolers for two full days of hope, encouragement and inspiration. The live stream of the 2014 Family Discipleship and Homeschooling Conference will present something for every member of your family:
Fathers will be called to loving, servant leadership and faithful discipleship in the home by looking to their heavenly Father for the perfect example of fatherhood they never had.
Mothers will be encouraged with a fresh perspective on the big-picture "why" behind the daily routine of motherhood, as well as practical tips for keeping the "homeschool routine" from turning into the "homeschooling rat-race."
Young adults and children will be prepared to engage the culture for Christ with a biblical view of history, science and defending the faith.
Through the lineup of dynamic speakers and practical sessions, you will be equipped to fulfill your great calling in life: making disciples of Jesus Christ – one child at a time.
One-year handwriting curriculum and accompanying family Bible study (10 Winners)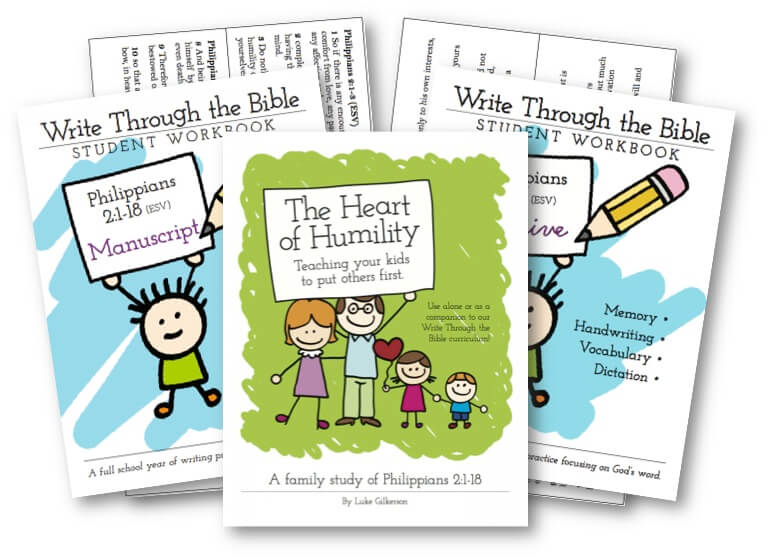 This bundle of resources is aimed at helping kids memorize and understand a longer text of Scripture—in this case, Philippians 2:1-18, the Apostle Paul's great hymn to Christ celebrating his incarnation, death, and exaltation. The bundle comes with two handwriting workbooks—print and cursive—which provide a year's worth of handwriting practice, vocabulary words, and dictation practice. The bundle also comes with a 30-day family Bible study and Scripture memory cards. All of these resources are centered on Philippians 2.
Intoxicated On Life is giving 10 winners this family bundle, each one priced at $17.50.
.
Enter the giveaway below!
Giveaway runs from April 10 to 19. Enter below and don't forget to share this great opportunity with your friends!