This shop has been compensated by Collective Bias, Inc. and its advertiser. All opinions are mine alone. #CampbellsShortcutMeals #CollectiveBias
Here I'm sharing my easy Make-Ahead Dumpling Recipe and a new twist on Chicken Noodle Soup. I call this new recipe my: Chicken Noodle and Dumpling Soup.
One of our all-time favorites is Campbell's® Condensed Chicken Noodle Soup. I recently picked up a few cans while shopping for groceries at Walmart. We love the chicken broth flavor, the hearty noodles, and the veggies and chicken cooked right in. It's the perfect anytime side dish and a delicious retreat for your taste buds when you have a cold.
This recipe is not only a calming and soothing soup, it' a kid-friendly recipe that is also perfect for the Back-to-School season. This Make-Ahead Dumpling Recipe enables me to save time on cooking with Campbell Soup Company products. Less time in the kitchen means I have more time with my family.
I can remember my Puerto Rican mother making chicken noodle soup for me as a child anytime I caught a cold or suffered from the flu. Just the aroma of this soup warms my heart.
Now, Campbell's® Condensed Chicken Noodle Soup is delicious all by itself, but what do you do when you want to beef up the soup and turn it into a meal that even a husband would love? He likes to eat 4,000 calories a day!
Well, you whip up my Make Ahead Dumpling Recipe and pair it with fresh carrots, Swanson® Premium Chicken, and Campbell's® Condensed Chicken Noodle Soup.
Ingredients for Make Ahead Dumpling Recipe and Chicken Noodle Soup
1 – 22.4 oz can of

Campbell's

® Condensed Chicken Noodle Soup

1 – 12.5 oz can of

Swanson

® Premium Chicken

3 Cups Water (plus, up to one additional cup for adjusting soup)

1 1/2 Cups petite carrots – diced

1 Lime (optional)
Make Ahead Dumpling Ingredients
1 Cup All Purpose Flour

2 Teaspoons Baking Powder

1 Teaspoon White Sugar

1/2 Teaspoon Salt

2 Tablespoons Unsalted Butter

1/2 Cup Milk
Directions for Make Ahead Dumpling Recipe and Chicken Noodle Soup
Start with the dumplings. This Make Ahead Dumpling Recipe is perfect for weeks with lots of activity and little time for kitchen prep. You can whip up the dough, up to three days ahead of time, and have it ready in the fridge to drop into your favorite soup, for a hearty family meal any day of the week.
Make Ahead Dumpling Recipe
Step 1: Place the one cup of flour into a medium sized mixing bowl. Add the baking powder, sugar, and salt and stir to combine.
Step 2: Use a fork to cut in the 2 tablespoons of unsalted butter. The mix will still be powdery. Try to disperse the butter throughout the flour mix as much as possible with the fork.
Step 3: Pour in the 1/2 cup milk and gently combine.The mix will be a bit like pizza dough, though not as smooth.
At this point you can use the dough immediately or store it in the fridge for up to three days before adding it to a soup or broth.
Directions for Chicken Noodle and Dumpling Soup Recipe
My version of Chicken Noodle and Dumpling Soup includes loads of carrots. There are many ways to add the carrots to the soup but one of the best ways is to dice them into small pieces first. I used petite carrots and I cut up about one to one and a half cups worth of carrots to add to our family's soup.
Something to keep in mind when you're working with carrots – they take awhile to cook. If you're in a hurry you may want to cook them in the microwave first – in a bowl of water for 8-10 minutes will usually suffice. Everything else was super easy, I just added water from the sink, a can of chicken noodle soup and a can of chicken meat.
Step 1: To heat the Campbell's® Condensed Chicken Noodle Soup on the stovetop – pour the soup into a saucepan, and heat gently over medium heat, stirring occasionally. The can calls for an equal portion (approximately 3 cups) of water to be added to the soup.
Step 2: As soon as the soon heats up, add the carrots. If you did not heat them in the microwave first, you'll want to cook them in the soup at a simmer for 15 minutes. Cover the soup pot to keep in the moisture and heat. Check on it every five minutes or so to add additional water in 1/4 cup increments if needed. It depends upon your pan, stovetop and the humidity of the room. You may need to add more water if the soup thickens too much while it's cooking.
Step 3: After 15 minutes test the carrots with a fork to ensure desired softness. Add 1/2 cup of water. Then, you can start adding in the dumplings. To add the dumplings, use two tablespoons to scoop a bit of dumpling dough out of the bowl. Use the spoons to create a 1 1/2 inch ball and drop it into the soup. The balls will look lumpy and not smooth.
Step 4: The soup will need to hover between a boil and a simmer to cook the dumplings. The dumplings tend to suck up the soup broth so keep an eye on the soup. Keep the soup on medium heat, and covered, to cook the dumplings for 10 to 14 minutes. Try to leave the lid on as much as possible to keep the soup from evaporating while it cooks.
After 10-14 minutes, your dumplings should be ready. Cooking time varies as the dumpling size can significantly alter the time needed to cook.
I served our family this hearty, meaty soup with some V8 Splash® that is made with real fruit and vegetables. Between my husband, my mom and myself, we ate the entire soup in one setting. If you're feeding a family of four or more, just double the recipe!
Where can you find Campbell's® soups and fresh produce?
You can find Campbell's® soups in the soup aisle at Walmart. You can find the Swanson® Premium Chicken near where you find canned meats. You can add carrots, celery or onions to add even more veggies to this soup. Walmart is the perfect place to shop for quick weeknight meals and Campbell Soup Company products.
If you love soup as much as we do, click here to visit the Campbell's Shortcut Meals website and get Campbell Soup Company products recipe inspiration!
Ready to shop for delicious Campbell Soup Company products? Hover over the photo to click through to Walmart.com and purchase them.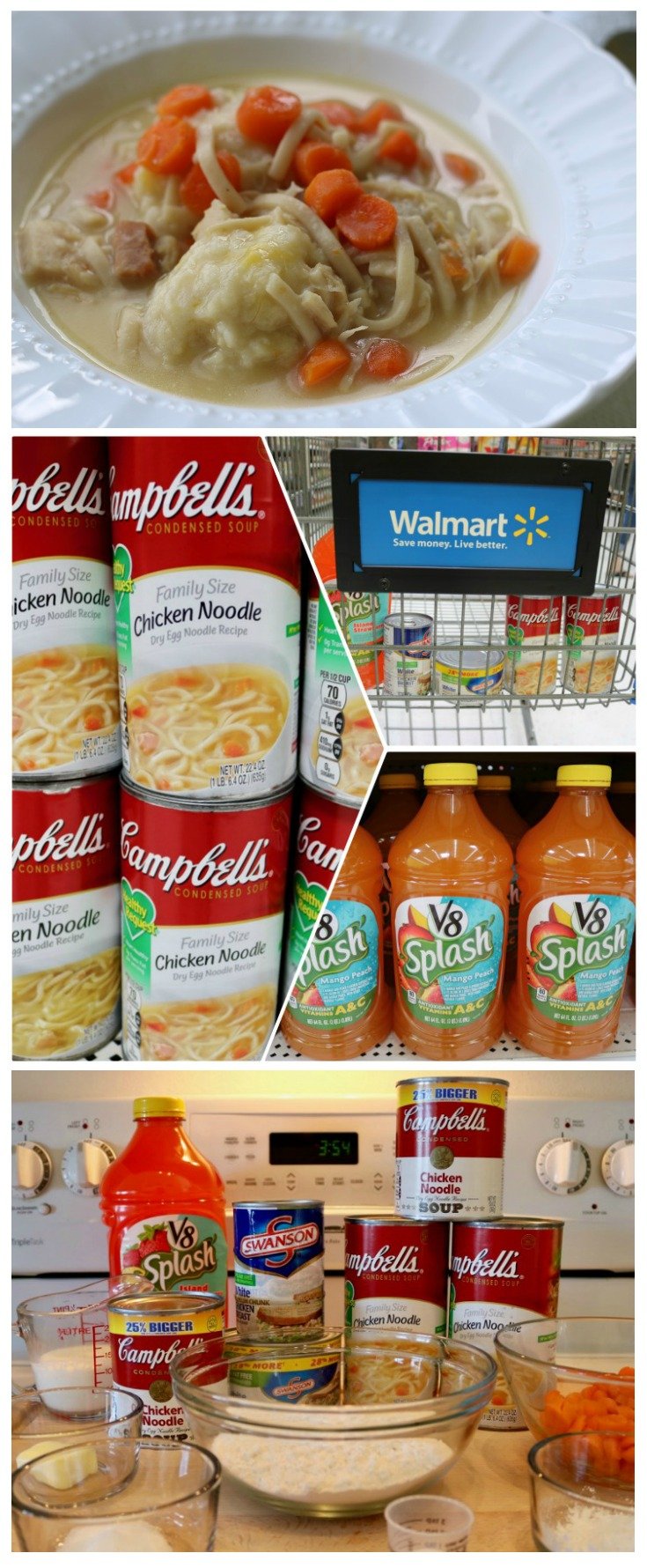 How does your family enjoy soup?
Does your family enjoy dumplings? What is your favorite soup flavor? Please leave a comment below, share a recipe idea, and join the conversation. I love hearing from my readers.
YouTube / Blog / Facebook / Pinterest / Twitter /Google + / Bloglovin'/ Instagram / YouTube
Recipe adapted from http://allrecipes.com/recipe/6900/dumplings/
Love easy recipes? – Subscribe today! I blog to encourage moms, offer free preschool tools, and share ideas for family fun. If you enjoy free recipes, printables, crafts and games for little ones, ideas for family fun and encouraging posts for moms, sign up and have Happy and Blessed Home delivered to your inbox. Simply enter your e-mail address here:
If you liked this Make Ahead Dumpling Recipe and Chicken Noodle Soup, you may also like:
Thanks for being a fan! Do you have a board for delicious recipes, or entertaining on Pinterest? Help spread the word and PIN this post on Pinterest!