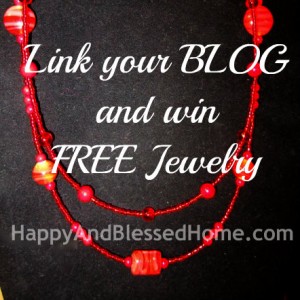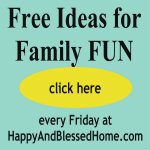 I am super excited about Family Fun Friday!  This blog post is an announcement only (not the actual contest – that happens every Friday – To go to Linky Tool go to Family Fun Friday Link Up Party. I am asking other bloggers to link-up to their post ideas about fun you can have with your family. Every Friday this link list will be open for ideas and once I collect twenty-five ideas I will randomly select a winner to receive a free piece of jewelry. Nothing too scientific here I will use a random number generator from the internet. Terms are subject to change next week if we get tons of link-ups.
Click here for this week's Family FUN Friday.
For my readers who do not blog, this will give you a chance to see some other great blogs out there and get some new creative ideas for ways to have fun with your family.  After I have 25 link-up entries, I will contact the winner and let that person pick which necklace or pair of earrings they would like.  For this first round of 25 entries I'm offering three options of free jewelry to choose from: 1.) green triple strand necklace, 2.) red beaded double strand necklace, or 3.) multicolored (corals and neutrals) triple strand.  Each is made with sterling silver clasps and crimps, and glass and/or bead-for-life beads.  If you are the winner I will contact you and get your address so I can send you your prize in the mail.  Just to get an idea of what is most popular, leave a comment of your favorite necklace in the comments section below of the Family Fun Friday blog post each week.
So, if you're reading this post and would like to win, mark your calendar for Friday as it will be the first day of the linky party and contest.
Posts should be about:

Ways to have fun as a family
Activities that could easily be transformed into Family Fun
Family Traditions
Anything family friendly that could be a family activity
So, if you're going to blog may as well blog for free jewelry!  It's just my way of meeting new bloggers and building community on the topic of having fun with our families.
I pray you'll join us every Friday and I'll keep giving away jewelry till it's all gone (I have about 30 pieces). If you link up, you permit me to use your pictures/ideas as part of future posts. I will add my favorites to my Pintrest board to showcase your ideas.  Thanks for marking your calendar for this Friday – our Family Fun Friday link-up party and I hope you'll link-up with me here at Happy and Blessed Home.
In His Grip,
Monica
To leave a comment on any post, click the headline of the post and it will take you to a page where you can leave a comment at the bottom of the post.
Linking up with: Pieces of Amy, Newequus, Christian Mommy Blogger, A Mama's Story, Mercy Ink, Legacy Leaver, FunkiPlanet, The Better Mom
If you'd like some free printables please go to Free Stuff.
P.S. If you like my blog and the free printables, please like my Facebook page at: HappyAndBlessedHome – thanks so much!
P.P.S. Bloggers – if you share my "Free Ideas for Family Fun" button (see below) on your blog send me a link in the comments or contact me via my "contact me" page and I'll give you five extra entires. If  the one below does not work try the one on my sidebar (I recommend retyping the quotes in the code too). I will not run the contest until I have 50 link-ups though.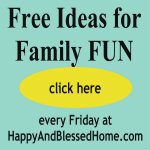 <a href="https://happyandblessedhome.com" target="_blank"><img src="https://happyandblessedhome.com/FamilyFun.jpg" alt="HappyandBlessedHome.com" width="125″ height="125″ /></a>
Here are close-ups of the necklaces (the pics don't do them justice) – pick your favorite and let me know! I can't wait to see your posts. 🙂