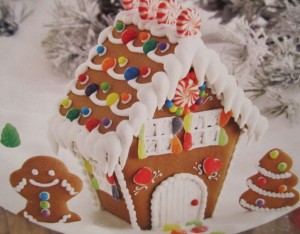 It's a Family Fun Friday link-up party here at Happy and Blessed Home. I'm looking for ideas on ways to have fun with family that I can share with my readers and my blogging friends.
To kick off this Family Fun Friday idea-a-thon, I'd like to share one of the ways we plan to have fun as a family this Christmas.  One of the women in my life who I consider a Titus 2 leader, Corinne, shared this beautiful vision she received from the Lord on creating Ginger Bread Houses.  She's been building these for years and has been kind enough to share her insights with me and has agreed to allow me to share her vision with you on this blog.
To make this a fun family event, I plan to create one of these Ginger Bread Houses with our family this weekend and will share some pictures next week.  The other really wonderful thing about this is that my children's grandfather will be in town during this activity which makes it even more special.
I pray this idea is a blessing to you as it has been to me, and I thank Corinne for sharing her wonderful insight and vision.  May you have lots of fun with your family this weekend and I'd love to hear from you if you decide to make Ginger Bread Houses in your home. Please leave a note in the comments and if you take any pictures let me know via my "Contact Me" page  and I'll see if there is some way we can feature you on my blog.  BTW – I'm using a pre-made kit see picture below.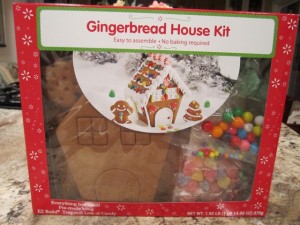 Corrine's inspiring write-up on what to talk about with your family as you build your Ginger Bread House is attached here: Symbolism of Ginger Bread House building. It includes scripture and an encouraging message of God's love for us and the gift He's given us through His son, Jesus.
For my blogging friends, as announced in Announcing Family Fun Friday Link Up Party, if you're reading this post and would like to win, add your link below in the link tool.  If you link up, you permit me to use your pictures/ideas as part of future posts. I would like your best ideas for family fun – you can cook together, travel, craft, create, paint, color, watch a show – give me your best ideas on ways to have fun with your family.  I will also accept stories about family traditions. Your story just has to be from your blog – it doesn't have to be recent. If you're going to blog it may as well blog for free jewelry!  It's just my way of meeting new bloggers and building community on the topic of having fun with our families.  I pray you'll join us every Friday for Family Fun Friday and I'll keep giving away jewelry till it's all gone (I have about 30 pieces). I will add my favorites from your posts to my Pintrest board to showcase your ideas.  Thanks for linking with me here at Happy and Blessed Home.
I pray you are blessed by this effort to share ideas on having Family Fun.
In His Grip,
Monica
To leave a comment on any post, click the headline of the post and it will take you to a page where you can leave a comment at the bottom of the post. If you like my blog please like my Facebook page at: HappyAndBlessedHome – thanks so much!
P.S. Bloggers – if you share my "Free Ideas for Family Fun" button (see below) on your blog send me a link in the comments or contact me via my "contact me" page and I'll give you five extra entires. If  the one below does not work try the one on my sidebar (I recommend retyping the quotes in the code too). I will not run the contest until I have 50 link-ups though.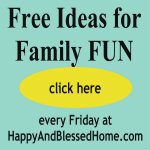 <a href="https://happyandblessedhome.com" target="_blank"><img src="https://happyandblessedhome.com/FamilyFun.jpg" alt="HappyandBlessedHome.com" width="125″ height="125″ /></a>