This shop has been compensated by Collective Bias, Inc. and its advertiser. All opinions are mine alone. #BigLotsHoliday #CollectiveBias Here I'm sharing an easy recipe: Lemon Coconut Muffins. With a toasty sweet topping of coconut flakes and a moist, lemony muffin flavor in every bite, these Lemon Coconut Muffins are perfect for holiday entertaining or when you're looking for desserts that also serve as festive holiday decor!

Holiday Party Treat
Have a holiday party coming up? Need a fun treat to take to a school Christmas gathering? You'll love this simple and easy recipe for Lemon Coconut Muffins. What I love about this recipe is that it bakes up a dense and moist muffin and combines it with a sweet, crunchy, and flaky topping of coconut flakes. Bake up a dozen and turn them into a holiday centerpiece. Served with hot cocoa and marshmallows – this tasty treat is sure to delight your family and holiday guests.
Edible Holiday Decor
What better way to celebrate than to make Christmas decorations that are edible? Share these simple treats with family and friends and watch their faces light up as they bite into flaky coconut topping and enjoy a zest of lemon flavor with their coconut muffin!

Ingredients for this Easy Recipe: Lemon Coconut Muffins
I picked up my main ingredients for this recipe at Big Lots. They have an awesome selection of baking supplies, cookware and entertaining gear perfect for the holidays. This recipe is an adaptation of another recipe I found online for Lemon Coconut Muffins [link provided at the bottom of this post]. For this recipe you'll need:
1 lemon, zest and juice
1/2 cup granulated sugar
1/2 cup shredded unsweetened coconut
2 1/2 cups all-purpose flour
2 teaspoons baking powder
1/2 teaspoon baking soda
1 teaspoon salt
2 large eggs
1/3 cup coconut oil, melted
1 cup plain low fat vanilla yogurt
1/3 cup milk
1 1/2 teaspoons vanilla
shredded coconut (optional, for sprinkling onto the tops)
1 muffin tin lightly sprayed with non-stick cooking spray
Directions to create this Easy Recipe: Lemon Coconut Muffins
Step 1: Preheat Oven. Set your oven to pre-heat to 375 degrees.
Step 2: Assemble and gather ingredients. I always like to gather up my ingredients before I start creating a recipe to make it easier to assemble.
Step 3: Melt the coconut oil. Place a microwave safe lid over the bowl of coconut oil and melt in the microwave for one minute on high. Microwave ovens vary so you may need to heat again. If reheating, heat the oil in ten second increments to ensure you only melt the coconut oil.
Step 4: Combine the dry ingredients. Combine the lemon zest (approx. 1/2 teaspoon), 1/2 cup granulated sugar, the 1/2 cup shredded unsweetened coconut, the 2 1/2 cups all-purpose flour, the 2 teaspoons baking powder, the 1/2 teaspoon baking soda, and the 1 teaspoon salt in a large mixing bowl.
Step 5: Combine the wet ingredients. In a separate mixing bowl, combine the lemon juice (approx. 1 tablespoon), the 2 large eggs, the 1/3 cup of melted coconut oil, the 1 cup plain low fat vanilla yogurt, the 1/3 cup milk, and the 1 1/2 teaspoons vanilla and mix throughly until completely combined.
Step 6: Mix the dry and wet ingredients and dispense. Mix the wet ingredients into the dry ingredients and stir. The mix is thick. You'll need a spoon to dispense the dough. Lightly spray a muffin tin with non-stick cooking spray and lump in the mix. You'll want to distribute the mix as evenly as possible. Sprinkle on coconut as desired. To prevent burning the coconut, cover the tray with foil during the last five to eight minutes of cooking. Bake for 22-24 minutes at 375 degrees.
Holiday Shopping at Big Lots
To be honest, I stopped by Big Lots to pick up my baking ingredients and I got distracted by all the beautiful holiday decor. I purchased two of these gorgeous red lanterns and some delightful "woodland creatures" to kick off my holiday decorating. Aren't they gorgeous? 😉
If you're looking for beautiful holiday decorations, Christmas gifts, and baking supplies – you need to shop at Big Lots. Big Lots has everything from outdoor Christmas lawn decorations and ready-made gifts, to placemats and adorably festive stuffed characters. Styles and assortment vary by store.
The boys had a blast helping me pick out woodland creatures to decorate our home. And we all enjoyed Lemon Coconut Muffins with Hot Cocoa once I finished decorating our holiday centerpieces with the precious Christmas decorations I found at Big Lots.
Want to shop Big Lots online?
Find loads of Christmas decorating supplies including Christmas trees, stockings, wreaths, centerpieces, and more at Big Lots online: Big Lots. You can also follow Big Lots on Instagram, Pinterest and Twitter to keep up with their home decorating tips, giveaways, and special offers!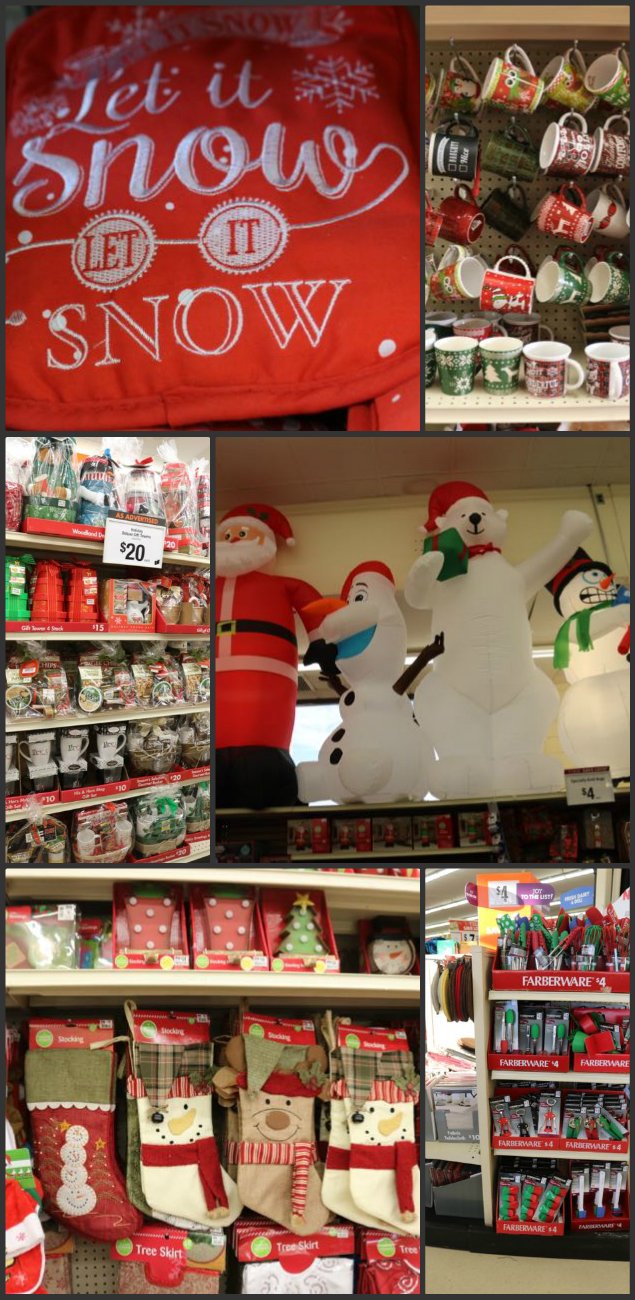 Pretty enough to be used as a holiday decoration!
Speaking of all the wonderful holiday decor you can find at Big Lots, I hope you've enjoyed my tutorial on creating this easy recipe: Lemon Coconut Muffins. I think they're pretty enough to be featured as a centerpiece on a holiday table. I love creating edible holiday decor!
Want more of the good stuff?
HappyandBlessedHome.com has hosted over $10,000 in giveaways in the last 12 months. Plus subscribers enjoy loads of free printables and easy recipes. If you enjoy free recipes, printables, crafts and games for little ones, ideas for family fun and encouraging posts for moms, sign up and have Happy and Blessed Home delivered to your inbox. Simply enter your e-mail address here:
More Family Fun Ideas for Christmas
Speaking of Christmas, I have some wonderful activities for creating memorable family-fun over the Christmas holidays. These are some of the family fun posts loved by over 50,000 fans! Make sure to subscribe so you don't miss any of my free printables, easy recipes, or games and activities for family fun!
| | | |
| --- | --- | --- |
| STEM Gift Ideas | FREE Ornaments | Race Track Craft |
| FREE Chore Charts | Nativity Puppets | Christmas Cookies |
What's your favorite holiday treat?
What are your family's holiday baking and treat-making traditions? Have any fun ideas to share? I'm always looking for new ideas. Please leave a comment below and join the conversation. I love hearing from my readers!
Happy Holidays and Merry Christmas!
YouTube / Blog / Facebook / Pinterest / Twitter /Google + / Bloglovin'/ Instagram
Recipe adapted from: Lemon Coconut Muffins
Thanks for being a fan! Do you have a board for tasty recipes or Christmas decorating on Pinterest? Help spread the word and PIN this post on Pinterest!